Web site Bio:
Founded in 2000, our visitor count exceeds 2000 users a day for most of the season. Operated by avid local north shore snowmobilers!
Editor Bio:
After college, I moved to Northeastern Minnesota where I'd been a paddling, fishing and hunting guide for 10 years in the Ely, Grand Marais / Gunflint Trail area. Seeking winters that actually had useable snow, less people and to fulfill my need to live closer to the land, the North Shore appeared ideal. Most of my life I've been an avid Snowmobiler. Back in the late 70s and 80s we watched the farm lands, open savannahs and big woods of Southern Minnesota disappear along with the trails and outdoor opportunities. Cities banned snowmobiling down to ridiculous parking spots and trails that made no sense, due to over development that lacked open space for recreation. No longer could we ride our snowmobiles from our homes to trailheads. One of my fondest memories of growing up, was the ability to ride our snowmobiles right from our homes to the trails. When April hits and the snow starts to diminish in Minnesota, I head to Alaska for a few extreme snowmobile events; the largest annual snowmobile/ski/snowboard event called Arctic Man. Attended by more than 10,000 people with incredible mountain riding in the Hoo-Doo Mountains and then the Mountain Man Hill Climb in Thompson Pass near Valdez, Alaska.
Occupation: Web Developer, Adrenaline Junkie, and occasionally an EMT.
Current Sled: '13 Ski-Doo
1st Sled: '71 Arctic Catฎ Puma with a 634 Hirth, I was 11 years old and could barely pull it over.
Favorite areas to ride: Minnesota North Shore Trails, especially the Grand Portage Trail System, West Yellowstone, Hoo-Doo Mountains near Summit Lake, Alaska and Thompson Pass - Chugach Mountains near Valdez, Alaska.
Craziest snowmachine adventures: Summit Lake, Alaska at the annual Arctic Man Ski and Sno Go Classic - The world's toughest downhill ski/snowboard and snowmachine race, all in one. Not to mention the largest snowmachine party on earth! Held every April at the foot of the Hoo-Doo Mountains. The Mountain Man Hill Climb, Thompson Pass - Valdez, Alaska. Check it out at: www.valdezsnow.com
In the winter when I'm not riding my sled: Plowing snow, updating this Web site with current reports, snowboarding or skiing at Lutsen Mountains and keeping my redheads in shape and happy.
In the off season: Paddling my canoe to hot fishing spots for hawg walleye, trout and northern pike, canoe camping the Quetico and BWCA, riding my yz450 on my track or a friends, fishing Sag Lake, Lake Superior or Isle Royale.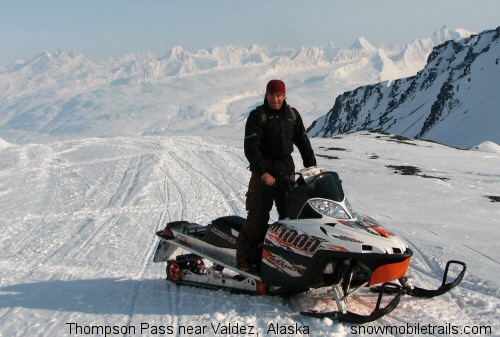 Thompson Pass - Chugach Mountains near Valdez, Alaska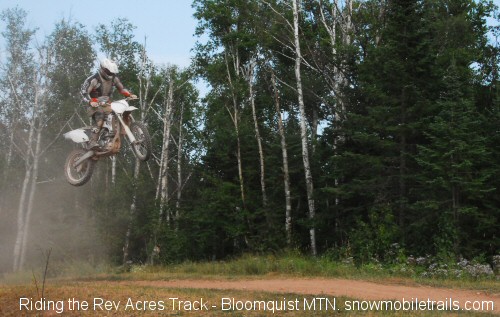 '07 YZ450F Taken at the Dave Pedersen Memorial Ride August 4th, 2007
Bloomquist Mtn./Rev Acres - Grand Marais, Minnesota